PROFIlinePlus US-320QC rewinding and cutting machine

The PROFIlinePlus US-320QC is a rewinding and cutting machine with high precision. The paper flow is controlled by a servo motor. The machine can cut self-adhesive labels, Dacron film labels and laser anti-fold labels. It is an ideal tool for flexographic printing machines, screen printing machines, relief printing machines and many more.
Data sheet - german Datasheet - english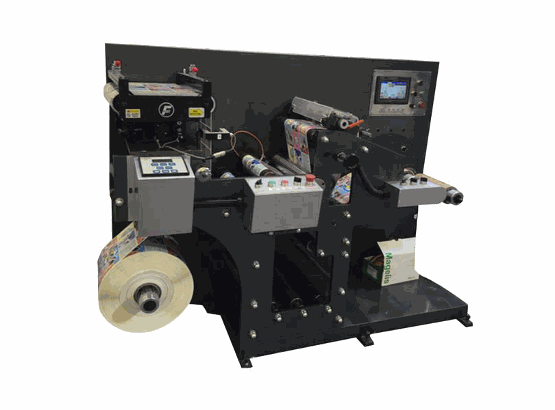 Features:
The automatic die-cutting machine is the add-on product of the automatic die-cutting machine. This machine is suitable for cutting narrow pieces of paper with a turret winder for small rolls. It has a metre counter and number counter. The unwinding is controlled by the web guide, the structure of the complete machine is compact, fast, with high efficiency, operate the feature easily, work steadily.
Standard configurations
a) With 1 piece 3'' unwind shaft, automatic inflation air shaft.
b) With 2 pieces 40 mm winding shafts, automatic inflation air shaft.
c) With counter/counter.
d) With two photoelectric eyes
e) With 6 sets of rotating knives.
f) With a 25N.M magnetic brake, a 25N.M magnetic coupling.
g) The machine is equipped with a blower that blows away the cut sides.

Most important technical parameters
Cutting speed 300m/min
Max. Web width 320mm
Max. Unwinding diameter 600mm
Max. Rewind diameter for large roll 600mm
Max. Rewind diameter for small roll 200mm
Dimensions 1100*900*1300mm
Main engine 1.5KW
Voltage 220V, single-phase
Min. cutting width 15mm
Weight of the machine approx. 400kg