Sheeter
Technical data:

Steel plate

Speed adjustable via rotary potentiometer

Preset counter

Web width: 320 - 1,100 mm

Machine dimensions L x W x H: 1,200mm x 400 mm - 1,250 mm x 1,000 mm

The height is adjusted to the corresponding machine.

Voltage: 400 Volt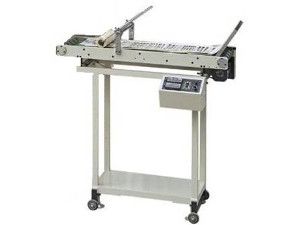 Schuppenauslagen werden häufig in Druckereien verwendet, um gefalzte Produkte wie Broschüren, Kataloge und Zeitschriften zu verarbeiten. Sie helfen dabei, die Effizienz des Falzprozesses zu verbessern und ermöglichen eine saubere und ordentliche Weiterverarbeitung von gefalzten Produkte.
Schuppenauslagen von CMC Maschinenbau werden an die jeweilige Maschinenhöhe angepasst und sind in einer flexiblen Breite von 320 mm bis zu 1.100 m erhältlich. Durch die variable Vorschubgeschwindigkeit können sie an unterschiedliche Fertigungsaufträge angepasst werden. Die Schuppenausleger sind mobil und können daher an jedes Falzaggregat angestellt werden. Die Falzbogen werden zwischen Transportband und Niederhalterolle geschuppt ausgelegt.