Electrical Roll Lifter

EER-500/1700 and EER-500/2020
Manoeuvrable lifting device as ergonomic helper, due to its dimensions ideal for use in archives, warehouses and confined spaces such as B. Libraries at 100/150kg Load capacity.
Electrical height adjustment by means of cable supported remote control from 128 bis 2020 mm. Chassis: 115 mm undercarriage height, optionally < 90mm reducible. Clear width at front 460 mm, Outside width 580 mm.
Optional: Rotary spindle 265 mm Height, 77 mm Ø as an Option for electric Roll Lifter 100 kg and 150 kg.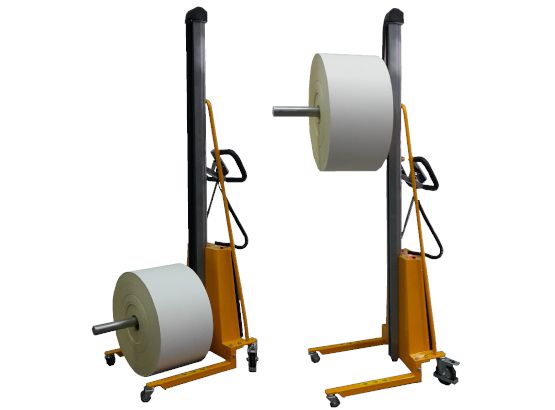 Technical data of the Roll lifters
| | |
| --- | --- |
| Load capacity | 100/150 kg |
| Width | Length 500 mm, total width 570 mm, 470 mm clear width |
| Height | Total 2295 mm, Underrun height < 90 mm [Underrun of Euro plates is possible] |
| Length | Platform 470 mm, Total length 775 mm |
| Weight | 66/78 kg |
| Tires | Polyurethane |
| Start height | 128 mm minimal |
| Hub | 1.600 mm |
| Hub height | 1.728mm (Optional 2.000mm) |
| Fork rolls | Fork rollers 75 mm Ø x 30 mm, Polyurethane |
| Brake | manual locking brake |
| Fork lenght | 400 mm |
| Fork width | Light 253 mm |
| Carrying width | Outside 333 mm |
| Wheel | Polyurethane steering wheels 125 mm Ø x 30 mm, with brake |
| Load center | 230 mm |
| Lifting speed | ca. 54 mm / Sek. |
| Lowering speed | ca. 54 mm / Sek. |
| Battery | Battery 2 x 12 V / 12 Ah with integrated charger 230 V. |
| Total depth | 775 mm |
| Lifting technology | elektrical |
| Platform deep | 470 mm |
| Platform width | 600 mm, Strength: 15 mm |