Umroll- und Schneidmaschine
PROFIline US-A700 - 1900
The rewinding and slitting machine PROFIline US-A700 - 1900 ebables the production of roll materials from paper, foils, adhesive tapes and laminates up to 800gr./m² with web width up to 1300 mm. The unwinder can take a material diameter of 1000 mm and carries 400 kg.
The robust machine, consisting of a solid steel frame, can be easily operated after only a short training period.
The simple, efficient design of the system enables extremely short set up and changeover times.
The PROFIline US-A machine is available in the following widths 700, 900, 1100, 1300, 1500, 1700, 1900.
Material to be processed: adhesive tapes, paper, foil, laminates up to 800 gr/m².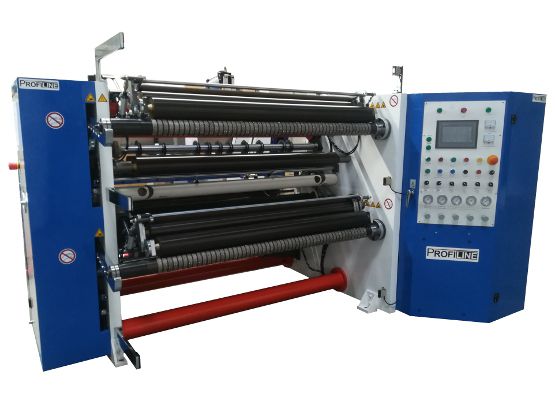 Equipment of the PROFIline US-A700 - 1900
Steel frames
Side plates made of painted steel plates

Base plate made of steel

Sides and cover plates made of sheet steel

Electronics integrated in the machine housing

Connection 400 Volt
Unwinder with pneumatic expansion shaft
Right/left unwinding possible

Web tension adjustable via magnetic powder coupling

Pneumatic expansion shaft 76 mm

Diamter max. Ø 1000 mm

Roll weight max. 400 kg

Material width from 150 mm to 1.300 mm

Stop sensor (at the end of roll)
Web center control (web edge control)
Bye means of 2 light scanners
Preferred unit
Steel roller

Rubberized pressure roller

Adjustable contact pressure of the pressure Roller

Electric motor driven

web speed up to 200/m/min depending on product
Suction device
Axial blower for suctioning an edge strip
Slitting pliers
Shear cutting systems

8 pc. upper knife

8 pc. lower knife

Minimum cutting width 18 mm

(different knife systems on request)
Counters
Running meter counter

Machine stops when the preselected length is reached
Rewind
Two pneumatic clamping shafts for 3 inch sleeves

Web tension adjustable via magnetic powder coupling

Diameter max. Ø 600 mm

Roll weight max. 400 kg

Material width from 30 mm to 1.300 mm

permissible axle weith 300 kg
Suppoert Rollers
Three mechanical support rollers for presssure on the finished vetch

Andruck auf dem fertigen Wickel
Operating and Control unit
Main switch

Control ON / OFF

Machine START / STOP

Emergency stop

Variable speed by rotary potentiometer

Meter and label counter switchable

Automatic Stopping of the Machine when reaching the preselected number of labels

Elektronic components integrated in the machine housing

Safety system with machine-embracing light grid
Technical Data
Electric voltage: 400 Volt

Electric power: 7 KW

Current: 12 Ampere

Frequency: 50 Hz

Length x width x height approx .: 2.600 mm x 2.370 mm x 1.860 mm

Weight ca.: 2.500 kg