Rewinding and Slitting Machine PROFIline US-600T
The PROFIline US-600T rewinding and slitting machine enables the assembly and control of self-adhesive materials: Paper, adhesive paper, adhesive tapes and foils with a web width of up to 600 mm.
The robust machine, consisting of a solid steel frame can be easily operated after only a short training period.
Material to be processed. Thsi machine is the ideal slitter rewinder for converting flexible materials such as. Paper, adhesive paper, tapes, foils, etc. With the latest European technology and a PLC Control from Taiwan, a speed of 300 m/min is achieved.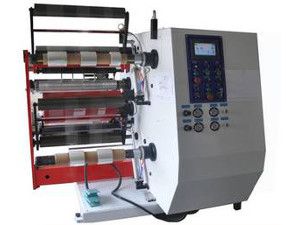 Description
Material width: 100-600 mm

Unwnd Diameter: 800 mm

Rewind Diamteter: 600mm

Maximum cutting width: 20 mm

Clamping shaft unwinding 3 inch pneumatic

Tension shaft rewind: 3 Inch pneumatic or according to your specifcations

Rate: 300 m/min

Connection: 400 V / 50 Hz
Optional
Splice Table

Ionization to reduce static charge

Edge trim suction

Pneumatic Friktion Clamping shafts for Rewinders
The machine parameters can be entered via Schneider Touch Panel and the Mitsubishi PLC.

Three Teco servo from Taiwan drive the preference as well as the tow rewinders

Three Yaskawa frequency converters from Japan control the motors

Three fully automativ web tension controls ensure constant web tension in all sitations

Meter counter with preselection possibility stops the machine when the preselected length has been reached.

A magnetic powder brake holds the web tension at the unwinder

Web edge control with ultrasonic sensor ensures exact cutting position

Light table for optival inspection of materials

Shear cut of straight razor mechanism

Pair of preferential rollers for transporting the material

Two support rollers for gentle rolling up of the material

Two pieces 3 inch expansion shaft for the rewinders, pneumatic SMC valves for fas aertion and venting of the expansion shafts

All mechanical parts are manufactured with the highest precision using CNC machines

All guide rollers are hard chrome plated

All NSK/Japan Ball Bearings

All power transmissions by synchronous toothed belt with low running noises

All electrical components from Mitsubishi, Schneider or yaskawa

Pneumatic Cylinders from Air-Tec/ Taiwan

Pneumatic valves from SMC / Japan