Flexodruck- Stanzmaschine PROFIline ZM-320
The die- cutting machine ZM-320 enables the register-true production of labels and die cut parts, for converting and controlling web-shaped materials up to a width of 320 mm.
The flexo printing and die-cutting machine works with the servo and control system of a well-known German manufacturer. The machine consists of an unwinder, web guiding systen, register control, foil laminator, rotary (semi-rotary) die cutter, slitter and winder.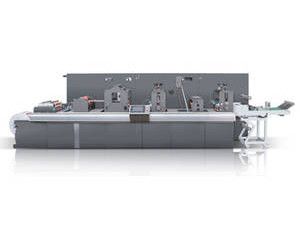 Properties
EASYline ZM-320 Rotary / Semi-Rotary Label Die cutter is a newly devaloped converting machine. Equipped with unwinder, web guiding system, flexo printing unit, die cutting unit, laminating unit, slitter, sheet cutter, shingle stacker and rewinder.
The machine works with a Bosch-Rexroth servo and control system.

The mantented register-punchibg system works with a fully or semi rotary punch, depending on product requirements..

In semi rotary mode, the web tension between the unwinder, web guide and winder is controlle at all times and therefore constant..

The ZM-320 has a 168 tooth magnetic cylinder. In semy rotary mode, only the die plate needs to be changed.

The EASYline ZM-320 combines high speed, hight accuracy, simple operation, high efficiency and low cost.

For large runs the magnetic cylinder can be exchanged and the machine can be operated up to 120m/min.
Specifications
Max speed: (rotary) 120m/min; (semi-rotary)65m/min

Max repeat length: (rotary)190.5-539.75mm; (semi-rotary) 100-350mm

Max Printing and punching width: 300mm

Max web width: 320mm

Max unwind diameter: 700mm

Max winding diameter: 600mm

Report / Accuracy: +-0.1mm

Longitudinal cutting width: 20-300mm

Electrical voltage: 400 Volt/3P

Electrical power: 8 KW

Weight: ca. 2.400kg, depending on the model

Dimension L x B x H: 3.220 x 1.680 x 1.660 mm