Plate Mounting Machine
The Plate Mounting Machine enablte the fast, precise and easy sticking from Klischees up to a width from 450 mm / 650 mm / 1000 mm / 1200 mm / 1600 mm. Special widths on Request.
The robust machines, consisting of solid stell frame, can be easily .
order now Plate Mounting Machine ab 5850,- €

order now Floor unit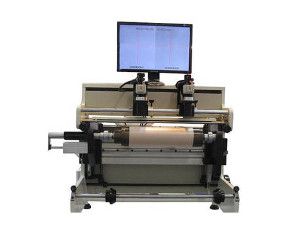 Sturdy construction made of precision stell

The working heigh is adjustable by precise spindle

CCD-Kameras with high resolation lens

Cameras can be adjusted in all directions

LCD Monitor

Pneumatic clamps for the printing plate

Variable Pressurecylinderrecordings

Unrolling possibility for printing plate adhesive tape

available widths 450/650/1000/1200/1600

Special widths on Request
Optional
Double screen (4 Kamera System) for the price 1.400,- €
Shaft for big (Sleeve) Diameter for the price 820,- €
This machine adopt high precision linear guide raids for horizontal positioning, the up and down position of camera is adjustable, unse precision screw rod system. with magnify zoom lens, high definition CCD camera, and LCD displayer. Can individually move the two camera, conveniently and accurate positioning the cross line. The CCD camera can be adjusted in six direction, the parallelism is adjustable, high precision of plate mounting and registing. The plate focus with micro-adjustment system, so that can accurate movingthe plate and correct contrapose the datum line; after mounting, van check the precision directly and assure the plate mounting quality. Pneumatic locking system, convenient loosen and tighten, fast plate mounting, easy operation, greatly improved the working efficiency. Suitable for flexo plate and resin plate printing.
Main parts
Linear guide raids: HIWI/Japan or ABBA/TaiWan

CCD Kamera: MINTRON/TaiWan

Zoon Linse: China Optical instrument factory

LCD Display: SAUMSUNG oder PHILIPS
450 mm width
Model EASYline PM-450

Plate Mounting width 120 to 450 mm

Plate Zylinder 55 to 260 mm

Voltage 110/240 Volt, 500 Watt

Air supply 3 mpa

Machine Dimension 128 x 600 x 1050

Weight 90 kg
650 mm width
Model EASYline PM-650

Plate Mounting 120 to 650 mm

Plate Zylinder 55 to 260 mm

Voltage 110/240 Volt, 500 Watt

Air supply 3 mpa

Machine Dimension128 x 700 x 1050

Weight 100 kg
1000 mm width
Model EASYline PM-1000

Plate mounting width 120 bis 1000 mm

Plate Zylinder 55 bis 350 mm

Voltage 110/240 Volt, 500 Watt

Air supply 3 mpa

Machine Dimension128 x 1100 x 1050

Weight 130 kg
1200 mm wudtg
Model EASYline PM-1200

Plate mounting width 120 bis 1200 mm

Plate Zylinder 55 bis 350 mm

Voltage 110/240 Volt, 500 Watt

Air supply 3 mpa

Machine Dimension128 x 1300 x 1050

Weight 150 kg
1600 mm width
Model EASYline PM-1600

Plate mounting width 120 bis 1600 mm

Plate Zylinder 55 bis 350 mm

Voltage 110/240 Volt, 500 Watt

Air supply 3 mpa

Machine Dimension 128 x 1700 x 1050

Weight 178 kg