Umroll- und Schneidmaschine
EASYline US-700 bis US-1900
The Slitter and Rewinding machine EASYline US-700 till US-1900 to unable the packaging and controlling from sheet Material with a web width up to 1900 mm.
Die aus einem massiven Stahlrahmen bestehende, robuste Maschine lässt sich bereits nach kurzer Einarbeitungszeit problemlos bedienen. Die Geschwindigkeit kann elektronisch geregelt werden. Nach Erreichen einer voreingestellten Anzahl von Laufmetern stoppt die Maschine automatisch.
The simple, efficient construction of the System allows extremly short set up and changeover times.
Material to be processed. Adhesive labels, paper, foil and laminates up to 800 gr/m².
Die Umroll- und Schneidmaschine EASYline US ist optional auch als Laminier Maschine erhältlich.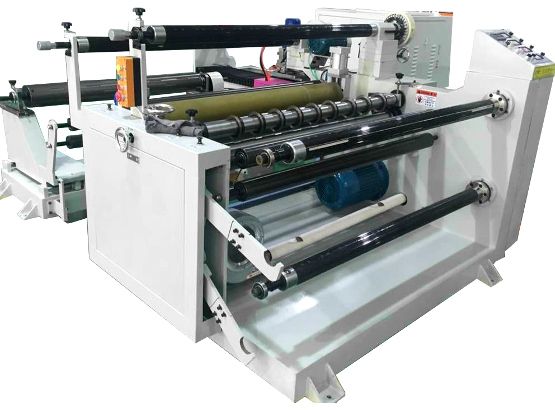 Configuration for the US-700 - 1900
Steel plate construction
Welded steel frame

Convered with painted stell plates l

Front and bottom plate mede of steel

Electronics integrated in the Machine housing

Supply 400 Volt
Unwinding with pneumatic shaft
Magnetic powder brake

Right/left unwinding possible

Tension can be adjusted manually

Pneumatic Airshaft 76 mm

Roll Diameter max. Ø 800 mm

Coil weight max. 1000 kg

Material width 100 mm to 1.100/1300 mm

Stoppsensor
Bahnmittensteuerung (Bahnkantensteuerung)
Mittels 2 Stück Kontrastsensor
Laminating unwinding (Option)
Pneumatic Airshaft 76 mm

Magnetic powder brake

Bahnzug über 25 Newton Magnetpulverbremse einstellbar

Durchmesser max. Ø 300 mm

Rollengewicht max. 250 kg

Material width 100 mm to 1.100/1300 mm
Laminating unwinding (Option)
Pneumatic Airshaft 76 mm

Magnetic powder brake

Bahnzug über 25 Newton Magnetpulverbremse einstellbar

Angetrieben über Zahnriemen vom Hauptantrieb

Roll Diameter max. Ø 800 mm

Rollengewicht max. 1.200 kg

Materialbreite von 100 mm bis 1.800 mm
Vorzugseinheit
Stahlwalze

Gummierte Anpressrolle, pneumatisch einstellbar

Einstellbarer Anpressdruck der Anpressrolle

Elektromotorisch angetrieben

Yaskawa Frequenzumrichter

Bahngeschwindigkeit bis 100 m/min je nach Produkt

Abdeckung mit Endschalter
Absaugevorrichtung
Axialgebläse zum Absaugen eines Randstreifens
Längsschneider
Scherenschnittsystem

8 Stück Obermesser mit Klemmung

8 Stück Untermesser mittels Buchsen verspannt

Minimale Schnittbreite 30 mm

Zusätzlich 10 Stück Klingenmesser

Abdeckung mit Endschalter

(weitere Messersysteme auf Anfrage)
Zähler
Laufmeterzähler

Maschine stoppt bei Erreichen der vorgewählten Länge
Aufwicklung
Zwei pneumatische Spannwellen für 3 Zoll Hülsen

Bahnzug über 50 Newston Magnetpulverkupplung einstellbar

Durchmesser max. Ø 450 mm

Rollengewicht max. 350 kg

Innen- Außenwicklung optional
Auflagerollen
Vier Stück mechanische Auflagerollen zum Andruck auf dem fertigen Wickel
Bedienungs- und Steuereinheit
Hauptschalter

Steuerung EIN / AUS

Maschine START / STOP

Not-Aus mit Sicherheitsrelais

Variable Geschwindigkeit durch Drehpotentiometer

Meterzähler umschaltbar

Automatisches Stoppen der Maschine bei Erreichen der vorgewählten

Meterzahl / Etikettenzahl

Elektronikkomponenten im Maschinengehäuse integriert
Technische Daten
Elektrische Spannung: 400 Volt

Elektrische Leistung: 5 KW

Strom: 16 Ampere

Frequenz: 50 Hz

Luftanschluss: 6 bar

Gewährleistung 2 Jahre