Slitter-Rewinder
EASYline US-700 bis US-1900
The Slitter and Rewinding machine EASYline US-700 till US-1900 to unable the packaging and controlling from sheet Material with a web width up to 1900 mm.
The robus machine, which consists of a solid steel frame can be easily operated after only a short training period. The speed can be controlled electronically. After reaching a pre-set number of running meters, the machine stoöps automatically.
The simple, efficient construction of the System allows extremly short set up and changeover times.
Material to be processed. Adhesive labels, paper, foil and laminates up to 800 gr/m².
Die Umroll- und Schneidmaschine EASYline US ist optional auch als Laminier Maschine erhältlich.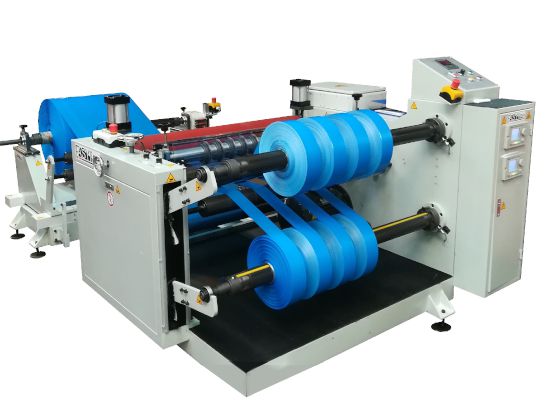 Configuration for the US-700 - 1900
Steel plate construction
Welded steel frame

Convered with painted stell plates l

Front and bottom plate mede of steel

Electronics integrated in the Machine housing

Supply 400 Volt
Unwinding with pneumatic shaft
Magnetic powder brake

Right/left unwinding possible

Tension can be adjusted manually

Pneumatic Airshaft 76 mm

Roll Diameter max. Ø 800 mm

Coil weight max. 1000 kg

Material width 100 mm to 1.100/1300 mm

Stoppsensor
Web guiding System
By two photoelectric Sensor
Laminating unwinding (Option)
Pneumatic Airshaft 76 mm

Magnetic powder brake

Web tension adjustable via 25 Newton magnetic powder brake

Diameter max. Ø 300 mm

Roll weightmax. 250 kg

Material width 100 mm to 1.100/1300 mm
Laminating unwinding (Option)
Pneumatic Airshaft 76 mm

Magnetic powder brake

Web tension adjustable via 25 Newton magnetic powder brake

Powered by timing belt from the main drive

Roll Diameter max. Ø 800 mm

Roll weight max. 1.200 kg

Materialbreite von 100 mm bis 1.800 mm
Drive Unit
Stell Roller

Rubberized pressure roller

Adjustable pressure of the pressure roller

Driven by electric motors

Yaskawa Frequency converter

Web speed up to 100 m/min, depending on the product

Cover with limit switch
Suction
Axial fan for suction of waste strip
Slitter
Scheer cut system

8 pc. of upper blade

8 pc. anvil blade rings

Minimm cutting width 25 mm

Additional 10 pc. of blade knife

Cover with limit switch

(further knife systems of request)
Counter
Laufmeterzähler

Machine stops when reaching the preselected length
Rewinding Shafts
two pneumatic air shafts for 3 inch cores

tension adjustable by magnetic powder clutch

Diameter max. Ø 450 mm

Roll weight max. 350 kg

In/Outwinding optional
Support Rollers
four pieces of mechanical support rollers for pressure on the finished winding
Operating and control unit
Main switch

Control EIN Button

START / STOP Button

Emergency Stop button

Variable speed by potentiometer

Meter and label counter switchable

Lettering in English or local language

Automatic machine stop when reaching the pre- selected number of meters/labels

Elektronic components integrated in the machine housing
Web direction from left to right
manuel Dokumentation in Englilsh or local language
CE declaration of Conformity

Technical Data
Volltage: 400 Volt

Elektric power: 5 KW

Current: 16 Amps

Frequency: 50 Hz

Pneumatic air suppy: 6 bar

Length x width x height : 1.300mm x 2.200/2.400mm x 1.400 mm
Weight: 2.000/2.200 kg