SLITTER REWINDER
EASYline US-320QC an US-420QC
The EASYline US-320QC/ 420QC roll slitter allows the productions of narrow slit rols from any reel material such as paper, foil, adhesive labels and laminates up to aproximately ca. 800gr./m².
She ready for use and Controlle sheet material till in a width of 320mm/420mm.
This robust machine consiting of a solid stell frame can already be operated easily after a short training period. The speed can be controlled electronically. After reaching a preset number of labels or running meters, the machine stops automatically.
The simple and efficient design of the unit enables exremely short make-ready and change over times.
Processable Materials: Adhesive labels, paper, foil, laminates p tho approximately 800 gr/m².
Datenblatt - deutsch Datasheet - english
order now EASYline US-320QC
order now EASYline US-420QC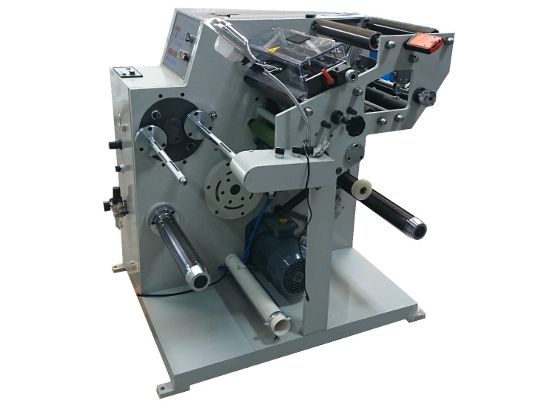 Configuration to EASYline US-320QC/ US-420QC
Steel plate construction
Welded stell frame

Covered with painted steel plates

Front and covers plate made of steel


Electronics integrated in the machine housing

Supply 240 Volts

Unwinder with pneumaic air shaft
Right/left unwinding possible

Web Tension across Magnetic powder Clutch tunable

Pneumic air shaft 76 mm

Diameter max. Ø 700 mm

Roll weight max. 180 kg

Material width 50 mm to 320 mm/ 420 mm

Stopsensor (on Roll end)
Splice table
Splice table from sheet steel

two magnetic clamping jaws

Knife guide for cross or diagonal cut
Web guiding system
By two phooelectric sensor
Drive Unit
Steel roller

Rubberized pressure roller

Adjustable pressure of the pressure roller

Driven by electric motors

Web speed up to 120m/min, depending on the product
Suction
Axial fan for suction of waste strip
Slitter
Scissor cutting system with rotary blades

Six pieces of upper blade

Six pieces anvil blade rings

Minimm cutting width 15 mm

(Diverse knife systems on Inquiry)
Counter
Changeable from label counter to meter counter

Machine stops at the selected quanitity/length
2 piece rewinding shaft
Tension adjustable by magnetic powder clutch

Pneumatic air shaft for 1,5 inch cores, other diameter on require

Web Tension across Magnetic powder Clutch tunable

Roll Diameter max. 200 mm

Max. axle weight 80kg
Operating and control unit
Main switch

Control "ON" button

START / STOP button

Not-out button

Variable speed by potentiometer

Meter and label counter switchable

Automatic machine Stop when reaching the pre-selected number of meters/ Labels
Lettering in English or local language


Electronic components integrated in the machine housing

Web direction from right to left
Manuel and Documentation in English or local language
CE Declaration of Conformity

Technical Data
Voltage : 240 Volt

Electrical Power: 1,80 KW

Current: 10 Ampere

Frequency: 50 Hz

Length x Width x Height ca.: 900 mm x 900 mm x 1.200 mm

Weight ca.: ca. 520 kg