Rotationsstanzmaschine
EASYline R-600
The EASYline R-600 rotary die cutting and cutting machine enables the production of die - cut parts and labels for the assembly and control of web materials up to a width 600 mm.
The simple, eficient design of the system enables extremely short set-up and changeover times.
Maerial to be processed: Adhesive labels, paper, foil, laminates up to 600gr./m². Please provide samples before placing an Order.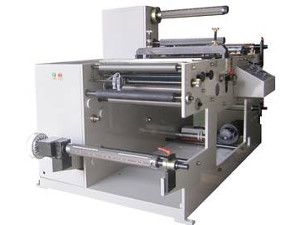 Equipment of the EASYline R-600
Steel plate construction
Welded steel frame

Coated with painted steel plates

Steel front and base plate

Sides and cover plates made of sheet steel

Elektronic integrated in the machine housing

Connection: 400 Volt
Unwinder with pneumatic expansion shaft
Magnetic powder brake

Right/left unwinding possible

Web tension manually adjustable

Automatic switch-off at end of Roll

Pneumatic expansion shaft 76 mm

Diameter max. Ø 800 mm

Roll weight max. 250 kg

Material width 100 mm to 600 mm
Splice table
Splice table mad of sheet steel

Two magnetic handles

Knife guide for transverse or diagonal cutting
Web center control (web edge control)
Bye means of light scanner
Rotary punch
Punching length from 200 mm to 470 mm

1/8 inch cp gearing

Object cylinder

Adjustable grid trigger with magnetic powder brake and 76 mm expansion shaft

without punching tools

Ohne Stanzwerkzeuge

Adapter for existing tools on reques
Counter
Switching option from label to running meter counter

Preferred Unit
Steel roller

Rubberized pressure roller

Adjustable contact pressure of the pressre roller

Electric motor driven

Web speed 100m/min depending on product
Suction device
Axial housing for suction
Slitting pliers
Shear cutting system

Eight pieces upper knife

Eight pieces lower knife

Minimum cuttung width 18mm
2 pieces rewind
Pneumatic expansion shaft for 3 Zoll sleeves

Web tension adjustable via magnetic powder coupling

Inside/outside winding optionally possible

Roll diameter max. 500 mm

Permissible axle weight 120 kg

web tension control
Suction device
Axial blower for suctioning an edge strip
Operating and control unig
Main switch

Control ON

Machine START / STOP

Emergency Stop

Variable Speed by rotary poteniometer

Meter and label counter switchable. Automatic stopping of the machie when the preselected number of meters, labesl is reached

l

Electronics components integrated in the machine housing. Web run from left to right

Bahnlauf von links nach rechts
Technical Data
Electrical voltage: 400 Volt

Electrical power: 6 KW

Current: 5 Ampere

Frequency: 50 Hz

Length x width x height approx ca.: 2.600 mm x 1.500 mm x 1.650 mm

Weight approx ca.: 2.200 kg
Options for the:
Hydraulic punch pressure indicator

Squeezing knife mechanism

Blade knife mechanism

Expansion shaft of various diameters from 1 inch

Label counter for the transparent materials

Laser fork sensor for transparent materials

Pneumatic web holder

Additional handling for laminating Non stick coating of the guide rollers

Antihaftbeschichtung der Leitwalzen

Magnetic cylinders of various diameters

Conveyor belt for the removal of individual parts

Register control for punching pre-printed labels

Work Lamp

and much more On Request