Inspection Rewinders
EASYline INS1-320 and EASYline INS1-500
The Inspection rewinders EASYline INS1-320 and EASYline INS1-500 support employees in checking and counting meters or labels of web materials such as paper, foils, adhesive label and laminates up to 800gr./m2.
The Simple and efficent design of the Systems enables extremely short set-up and chengeover times and can be easily operated after only a short training period. The speeds can be controlled electronically.
After reaching a preset number of labels or running meters, the machines stop automatically.


Der einfache und effiziente Aufbau der Anlagen ermöglichen extrem kurze Ein- und Umsrüstzeiten und lassen sich bereits nach kurzer Einarbeitungszeit problemlos bedienen. Die Geschwindigkeiten können elekronisch geregelt werden. Nach erreichen einer voreingestellten Anzahl von Etiketten oder Laufmetern stoppen die Maschinen automatisch
Material to be processed: Adhesive Label, Paper, Laminates up to 800gr./m².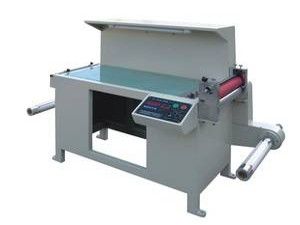 Equipment of the EASYline INS1-320 and EASYline INS1-500
Steel frames
Seitenplatten aus lackierten Stahlplatten

Sides and cover plates made of sheet steel.

Elektronics integrated in the machine housing

Connection 240 Volt
Unwinding with pneumatic expansions shaft
Right/left unwind possible

Web tension adjustable via spring coupling

Pneumatic Airshaft 76 mm

Roll Diameter max. 500 mm

Roll weight max. 80kg

Material width from 50 mm to 320 mm / 500 mm
Draw unit
Stell roller

Rubberized pressure Roller

Adjustable contact pressure of the contact rollers

Electric motor drive powered

Web speed up to 80m/min depending on product
Workplate
Area 420 mm / 520 mm x 1.000 mm

Illumination from below

Beleuchtung from above
Counter
Switching option from label counter to running meter counter

The machine stops when the preselected quantity/length is ready
Rewind
Pneumatc Airshaft for 3 inch holes

Web tension adjustable via spring coupling

Roll Diameter max. 500 mm

Legal Axle weight 80 kg
Operating and Control unit
Main switch

ON/OFF Switch

Machine START / STOP

Emergency/Stop

Variable speed by rotary potentiometer

Meter and counter switchable

Elektrical components integrated in the machine housing

Web run from left to right
Techninical Data
Voltage: 240 Volt

Elektric line: 0,30KW / 0,80KW

Current: 2 Ampere

Frequenzy 50 Hz

Length x Width x High: ca. 1.700 mm x 600 mm / 800 mm x 1.200 mm

Weight: ca. 160 kg / 185 kg