Inspection Rewinders
EASYline INS1-320 and EASYline INS1-500
The Inspection rewinders EASYline INS1-320 and EASYline INS1-500 support employees in checking and counting meters or labels of web materials such as paper, foils, adhesive label and laminates up to 800gr./m2.
The Simple and efficent design of the Systems enables extremely short set-up and chengeover times and can be easily operated after only a short training period. The speeds can be controlled electronically. After reaching a preset number of labels or running meters, the machines stop automatically.
Material to be processed: Adhesive Label, Paper, Laminates up to 800gr./m².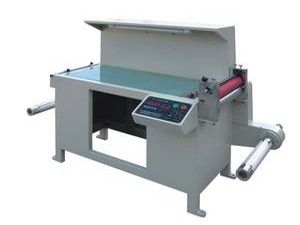 Equipment of the EASYline INS1-320 and EASYline INS1-500
Steel frames
Seitenplatten aus lackierten Stahlplatten

Sides and cover plates made of sheet steel.

Elektronics integrated in the machine housing

Connection 240 Volt
Unwinding with pneumatic expansions shaft
Right/left unwind possible

Web tension adjustable via spring coupling

Pneumatic Airshaft 76 mm

Roll Diameter max. 500 mm

Roll weight max. 80kg

Material width from 50 mm to 320 mm / 500 mm
Draw unit
Stell roller

Rubberized pressure Roller

Adjustable contact pressure of the contact rollers

Electric motor drive powered

Web speed up to 80m/min depending on product
Workplate
Area 420 mm / 520 mm x 1.000 mm

Illumination from below

Beleuchtung from above
Counter
Switching option from label counter to running meter counter

The machine stops when the preselected quantity/length is ready
Rewind
Pneumatc Airshaft for 3 inch holes

Web tension adjustable via spring coupling

Roll Diameter max. 500 mm

Legal Axle weight 80 kg
Operating and Control unit
Main switch

ON/OFF Switch

Machine START / STOP

Emergency/Stop

Variable speed by rotary potentiometer

Meter and counter switchable

Elektrical components integrated in the machine housing

Web run from left to right
Techninical Data
Voltage: 240 Volt

Elektric line: 0,30KW / 0,80KW

Current: 2 Ampere

Frequenzy 50 Hz

Length x Width x High: ca. 1.700 mm x 600 mm / 800 mm x 1.200 mm

Weight: ca. 160 kg / 185 kg