Label printing machine EASYline FD1-320
The Label printing machine EASYline FD1-320 enables the register exact production of labels, printing od adhesive tapes, papers and foils from any roll materials such as paper, foils, adhesive labels and laminates up to 600gr./m². It converts and controls web shaped materials up to a width of 320 mm.
The robust machine, consisting of a solid steel frame, can be operated without any problems after a short training period.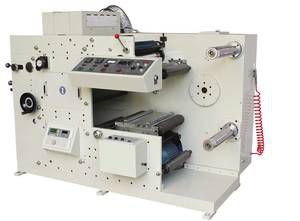 Equipment of the Label printing machine EASYline FD1-320
Properties
The main drive is infinitely variable via frequency converter. All open or closed Unwinder are controlled by magnetic powder brakes and clutch.

Printing unit with the ceramic screen roller, which is characterized by its wear resistance and corrosion resistance.

Doctor blade for doctoring the anilox roller

Register adjustable over 360 degrees

Each printing unit can be unlocked seperately when not in use.

Each printing unit is equipped with a seperate infrared dryer. At low speed, the chliche cylinders lift of material and continue rotating at slow speed.

Printing drying, laminating and die cutting is done in one operation (laminator optional).

Complete with thee sets of impression cylinders. Printing, drying, laminating and punching takes place in one operation (Laminating optional) Complete with three Set of pressure cylinders

Drucken, Trocknen, Laminieren und Stanzen erfolgt in einem Arbeitsgang (Laminierung optional)

Komplett mit drei Satz Druckzylindern
Description of the modules
Unwinder

Pneumatic tension Shaft for 76 mm cores

One magnetic powder brake 50 Newton and one magnetic powder brake 25 Newton

Automatic Web tension
One magnetic powder brake 50 newton


Automatic web guiding

Printed work

One ceramic anilox roller per printing

One ralkel per printing

Three printing cylinders (please statenr. of teeth)

One infared dryer per printing

Unit turnstile (Turn bar) for printing the reverse side

Roll up

Pneumatic tension Shaft for 76 mm cores

Automatic Web tension
One magnetic powder brake 50 newton


Eine Magnetpulverbremse 50 Newton
Technical Data
Model: PROFIline FD1-320

Number of printing units: 1

Max. Material widtth: 320 mm

Max. print width: 310 mm

Printable materials: Paper 30-350 gr.

Print lenght: 175-355 mm

Machine speed: 70 m/min

Print speed : 30-70 m/min depending on material print image

Register accuracy: +/-0,1 mm

Diameter of unwind: 600 mm

Diamater of unwind: 500 mm

Anilox roller : 1 pc. Ceramic (Murata)

Ink feed system: Rakel

Web tension system: Automatic web tension control for unwind and rewind

Pressure System: Mechanically adjustable

Drying: Infrared

Brake system: 50 Newton for unwinder
Electrical components
Power contactor: Schneider

Relay: Schneider

Counter: Schneider

Emergency Stop System: Schneider

Frequecy converter: Teco

Switch: Schneider

Thermostat: China brand

Solid state Relais: China brand

Web tension control: Mitsubisi for unwind, China Brand for rewind

Main Drive: Wannan China

Web guiding: Zhongxing China
Materials to be printed
Look out! The supplier must be informed with materials acutally to be printed.
Different anilox rolers may be required for different materials.
LDPE 28-100 μ

LLDPE 30-100 μ

HDPE: 25-100μm

CPP: 20-60μm

PP: 23-65μm

NY: 20-50μm

PETP: 16-60μm

OPP: 18-70μm

BOPP: 17-60μm

OPA: 20-60μm

Coated Foil: 30-80

Aluminium: 25-200μm

Cellophan: 30-100gsm

Paper: 30-350gsm

Wrapping Paper: 30-100gsm