The Plate mounting machines allow fast, precise and easy mounting of plates up to a width of 450 mm / 650 mm / 1000 mm / 1200 mm / 1600 mm. Special widths on request.
This machine has high-precision linear guides for horizontal positioning of the cylinder holders. Each camera is separately adjustable via a screw rod system. With magnification zoom lens, high-definition CCD camera and LCD display. The CCD camera can be adjusted in six directions, the parallelism is adjustable. The plate focus with micro-adjustment system enables precise displacement of the plate and ensures accurate alignment to the reference line. A pneumatic lock enables quick plate mounting, easy operation and significantly improved work efficiency.
After manual mounting, the precision can be checked directly and the plate mounting quality guaranteed. This is an important prerequisite for maximum productivity and print quality.
Suitable for flexo plate and resin plate printing.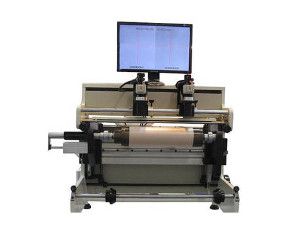 Sturdy construction made of precision steel

The working height is adjustable by precise spindle drives

CCD cameras with high-resolution lens

Cameras can be adjusted in all directions

LCD monitor

Pneumatic clamps for the cliché

Variable impression cylinder holders

Unwinding facility for plate mounting tape

Available widths 450/650/1000/1200/1600

Special widths on request
Optional

Double screen (4 camera system) at a price of 1.400,- €
Shaft for large (sleeve) diameter at a price of 820,- €
Components

Linear guides: HIWI/Japan or ABBA/TaiWan

CCD camera: MINTRON/TaiWan

Zoom Linse: China Fabrik für optische Instrumente

LCD-Anzeige: SAMSUNG oder PHILIPS
450 mm width

Model EASYline PM-450

Panel mounting size 120 to 450 mm

Cylinder diameter 55 to 260 mm

Connected load 110/240 volts, 500 watts

Compressed air 3 bar

Space requirement 128 x 600 x 1050

Weight 90 kg
650 mm width
Model EASYline PM-650

Panel mounting size 120 to 650 mm

Cylinder diameter 55 to 260 mm

Connected load 110/240 volts, 500 watts

Compressed air 3 bar

Space requirement 128 x 700 x 1050

Weight 100 kg
1000 mm width
Model EASYline PM-1000

Panel mounting size 120 to 1000 mm

Cylinder diameter 55 to 350 mm

Connected load 110/240 volts, 500 watts

Compressed air 3 bar

Space requirement 128 x 1100 x 1050

Weight 130 kg
1200 mm width
Model EASYline PM-1200

Panel mounting size 120 to 1200 mm

Cylinder diameter 55 to 350 mm

Connected load 110/240 volts, 500 watts

Compressed air 3 bar

Space requirement 128 x 1300 x 1050

Weight 150 kg
1600 mm width
Model EASYline PM-1600

Panel mounting size 120 to 1600 mm

Cylinder diameter 55 to 350 mm

Connected load 110/240 volts, 500 watts

Compressed air 3 bar

Space requirement 128 x 1700 x 1050

Weight 178 kg